Well early this morning I sent this email to Fox News after the comments made by Liz Trotta last night (I was also a little bit angry at the time hence the tone of the email):
Dear Mr. Everett

I am writing this email to inform you of my disgust at a recent comment made on your show by Liz Trotta. Mrs. Trotta indirectly or unknowingly called for the assassination of Senator Obama, the presumptive democratic nominee; she then proceeded to laugh about her statement as if saying such things occurred in normal discourse. Some people may defend this action as a mistake or a joke but suggesting the death of anyone is not a joke in my book and I sincerely hope you will cease her employment at Fox News in order to preserve what little integrity you have left. I fully understand Mr. Everett that Fox News caters towards the conservative half of the American population but from the time Senator Obama announced his run for President, the contributors on Fox News have continuously obfuscated the facts in an effort to stem the eventual flow of young republicans to Senator Obama's camp during the general election. I am sorry to tell you but this is a foregone conclusion, Senator McCain will not win the general election and Fox News might even have nothing to report on come 2009 with the Democrats firmly holding the majority in both the Senate and the House. Thank you for taking the time to read this email and I hope to hear from you soon with regards to your decision on the matter.

Regards

Crian Padayachee
In retrospect, I could have been a lot more polite but honestly I don't have a big issue with Fox News here in Ireland primarily because they are the only All-American news channel you can get in Europe. That being said, there are times when I switch over to Fox News only to switch to another channel very quickly because I cannot stand some of the right - wing rhetoric echoed by the presenters, commentators, and political pundits.
Some of these people actively try to confuse the population by stating that Senator Obama is Muslim and associated with some shady terrorist organizations. The people behind realnews.com went into Kentucky and interviewed some people to discover that the fear of Islam is what dominates the minds of people when it comes to voting for Senator Obama in such states. Senator Obama and Islam are not even related, beyond him spending some time in Indonesia (The largest Muslim country in the world) where he went to Catholic School.
Politics is supposed to be dirty but what do Fox News and other right-wing organizations gain by actively confusing people about the two presidential candidates in the general election? I don't have the answer but I am hoping to figure that out pretty soon. The Progressive Politics Examiner has an apology by Mrs. Trotta who excuses her comments as dry humor which I don't believe considering her Ivy League education and media experience. Here is the video that started it all: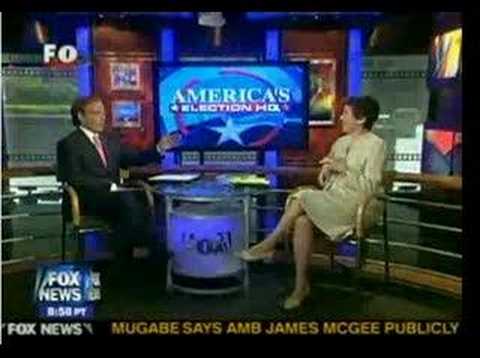 Contact FOX:
Teri Everett, Senior Vice President
Corporate Affairs & Communications
Phone: 212-852-7070
E-Mail: teverett@newscorp.com
May 26 2008 05:36 pm | American Politics
4 Responses to "An Email To Fox"
Leave a Reply